Everyone has made lifestyle changes in today's era of digitalization and fast moving information, and this is also true for B2B buyers, especially the younger ones. The mantra of the younger generations is "Any app or brand that make my life easier", and this is also applicable when they are working as corporate buyers: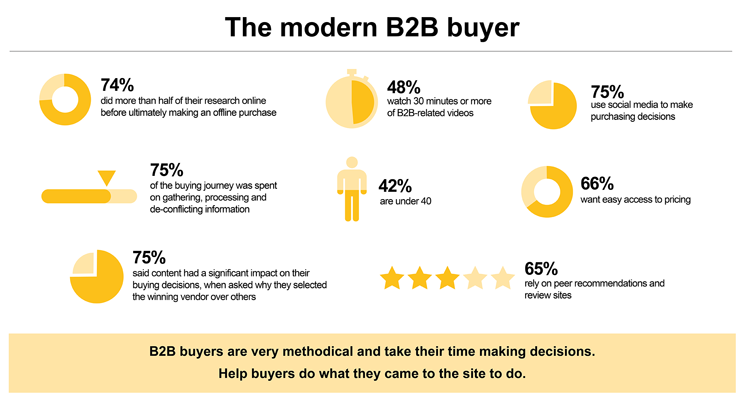 Sources: see the bottom of this page
With these figures in mind, me and my colleagues in the Avensia team of strategic advisors, have created a series of articles and webinars about the consumerization of B2B and other new developments within the B2B segment and how to tackle it. They will be posted here on the blog during the coming weeks. In the mean time, take a look at my latest blog post: A digital survival kit for B2B.
Digital strategy and holistic thinking is key when planning for the future of your business. One important part of our commerce advisors' jobs is to challenge the way organizations think about ecommerce, by asking the big, business-defining questions. Read more about the Avensia Commerce Advisors.
Sources:
https://www.gartner.com/en/newsroom/press-releases/2018-08-08-gartner-says-b2b-buyers-want-more-simplicity-in-accessing-the-right-information-with-or-without-a-sales-rep
https://www.forbes.com/sites/ryanerskine/2017/12/28/how-to-turn-b2b-buyers-into-sales-leads-according-to-data/#28a2fa255a18
https://infunnel.se/en/b2b-buyer-needs-trends/
https://www.weidert.com/whole_brain_marketing_blog/b2b-buyers-survey-takeaways
https://www.entrepreneur.com/article/310243
http://www.godtinnhold.no/artikkel/dette-leter-kunder-etter-pa-b2b-nettsider