In the time of a radical change within retail and the aggregating speed when it comes to technology and digital adaption, it could be nice to just halt a minute and think about what we really are trying to achieve with omni-channel retail.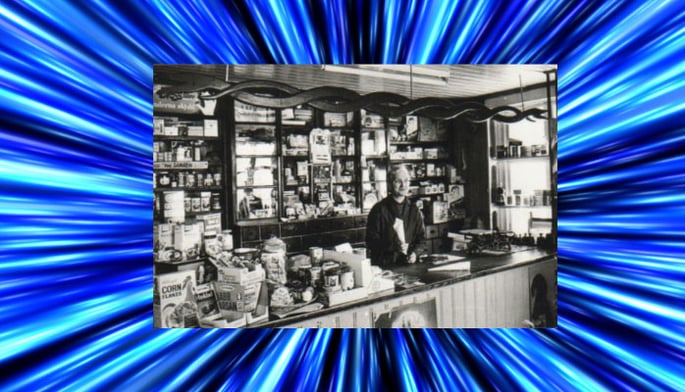 As an omni-channel advisor I talk a lot about omni-channel and I'm probably more fed up about the mystification of the term than most people. So my goal with thin article is to demystify the term and put some old school retail back in the spotlight.
Old school retail? Yes omni-channel is as old as the local general store, the type of store more or less all villages had a hundred years ago.
What the general store offered a hundred years ago is what most retailers struggle to achieve today. The only difference is that we have jumped a hundred years in time, added modern technology and global demand on range, offer and customer experience.
Let me explain my point.
The local general store owner knew every customer by name. He trusted his customers and they trusted him (most owners were men). Frequent and loyal customers got better prices and offers (he had his CRM and loyalty program in his head).
The general store were customer centric, the owner only had the customer surrounding the store. If he lost a customer, he lost an important part of his market. If the general store didn't have satisfied customers and an attractive range he would go out of business fast. One unsatisfied customers gossip would reach all the farms and customers around the store within days.
He had a range that was satisfying for most customers and he could make catalog orders so you could get spare parts to your harrow. So endless aisles for that time and need.
He was truly multi-channel since you could buy in store, call him by phone, send a letter, and send your farm hand with a note to get your goods. You did of course get the same price and range from all the channels and you would get everything on the same receipt. A totally seamless shopping experience.
You could pick up your goods in store (click and collect), get home delivery, get your order sent to the field, and since most general store owners lived above the store you could pick up your goods after ordinary opening times, even at night if you were trusted to have a key to the owners storage barn (automated pick-up point)
He had a wide range of payment methods, you could pay by credit (he knew where every customer lived and if they were creditworthy), cash or with goods the owner could re-sell (quite a flexible PSP where you can pay with a barrel of beer).
The owner was part of the most important social touchpoints for his customers and attended the local pub on Saturday evening (or sewing circle) and the church on Sundays. Getting all the gossip (social buzz, local big data and trend analysis) he could need to plan his range and business.
Since the owner of the general store got his feedback in real time from his customers he could change his range and assortment fast (real time range optimization).
If you needed unbiased review of a product the owner could tell you who also bought that product and you could go and talk to that customer, since he or she never lived more than a few kilometers away. (Customer review and social verification).
From the hand and nose marks on the shop window the owner could see what products were generating the most attention and what the customers most likely would buy when they got their wages (heat map analysis).
The most skilled owners did not only know their customers by name, they also knew when they, their spouses and kids had birthdays, so he could be proactive and suggest a good gift before the customer had asked for it. Since he knew the person whose birthday was coming up, he could recommend the perfect gift. (Personalization, big data and action based marketing)
If a customer, who usually were a frequent visitor, did not show up in a few days the owner knew something was wrong and would visit or send the customer a letter to see if everything was all right. (Retention marketing)
The most frequent customers just had to step in to the store and the owner would start picking the products he knew that the customer would want (personalization based on history) and a few new things that the customer most likely would be interested in (personalization based on behavior).
Customer service was reachable 24/7, since a few pebbles on the owners bedroom window would wake him up. But of Corse, you could only do this if you knew the owner well and were a good customer. (Priority service plan)
The customer journey, that start with some sort of need (or want) and ends with evaluation, was more or less the same then as it is today (less devices involved thou). The better the owner and the store could support and guide the customer in the process, give suggestions, tell about other customers who bought the product, tell about the article in the local paper etc., the better the chance were that the customer would make a purchase and feel really happy about it.
There are many more examples (please feel free to write your own as comments below), but that's enough to prove my point.
Ok then, if the general store were so great and omni, why don't they exist anymore?
The answer is easy, the general store could not offer the range, service or experience the customers were demanding with the tools they had. But today those tools exist.
So, omni-channel is in no way something new or strange (your grandmother and her mother took it for granted) but what's new is the need and knowledge to do this on a much larger scale to exceed the expectations of the modern consumer.
With deep knowledge about retail and consumer behavior, a smart IT-infrastructure, good platforms, an ecosystem of supporting components, engaged and educated staff and not least a well-managed omni-channel strategy to act on, you can become a modern general store or successful omni-channel retailer in any line of business.
We work with many skilled retailers and companies within B2B who all have decided to be best in e-commerce and omni-channel. But none of them sell parts to harrows, yet.